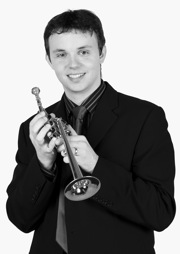 Teaching area

Niederuzwil, Luzern (CH)
Contact
Tel. +41 787 538 218
Patrik Arnold was born in 1982 in Bürglen, Switzerland.
At the age of 10, he began his first trumpet lessons with Daniel Bietenhader and later with Lukas Merki from the Basler Sinfonietta.
He was a member of the National Youth Brass Band (NJBB) as well as the Brass Band Uri, and he participated in several Brass Band and Symphonic Wind Orchestra projects.
From 2000 to 2005, he studied at the Peter-Cornelius Conservatory and Johannes Gutenberg University Mainz under the guidance of Prof. Malte Burba.
Currently, he teaches at the music schools in Uzwil, Oberuzwil-Jonschwil, and ThurLand.
He is a member of the trumpet ensemble Zephir and the Camerata Cantabile (ZH).
He is also engaged in other roles as a conductor, freelance musician, and educator.